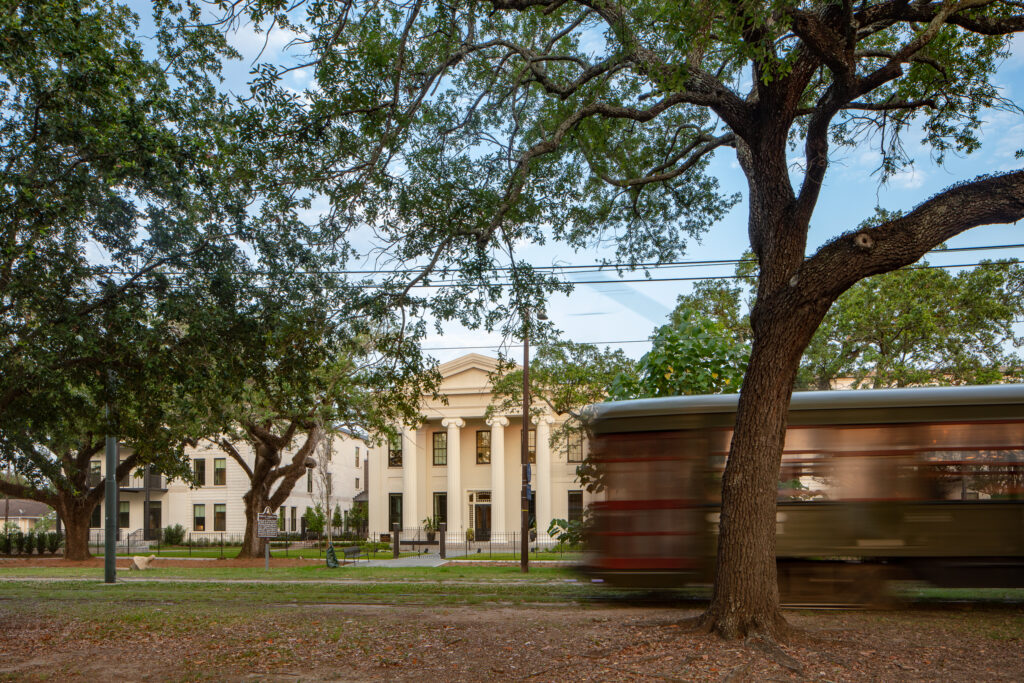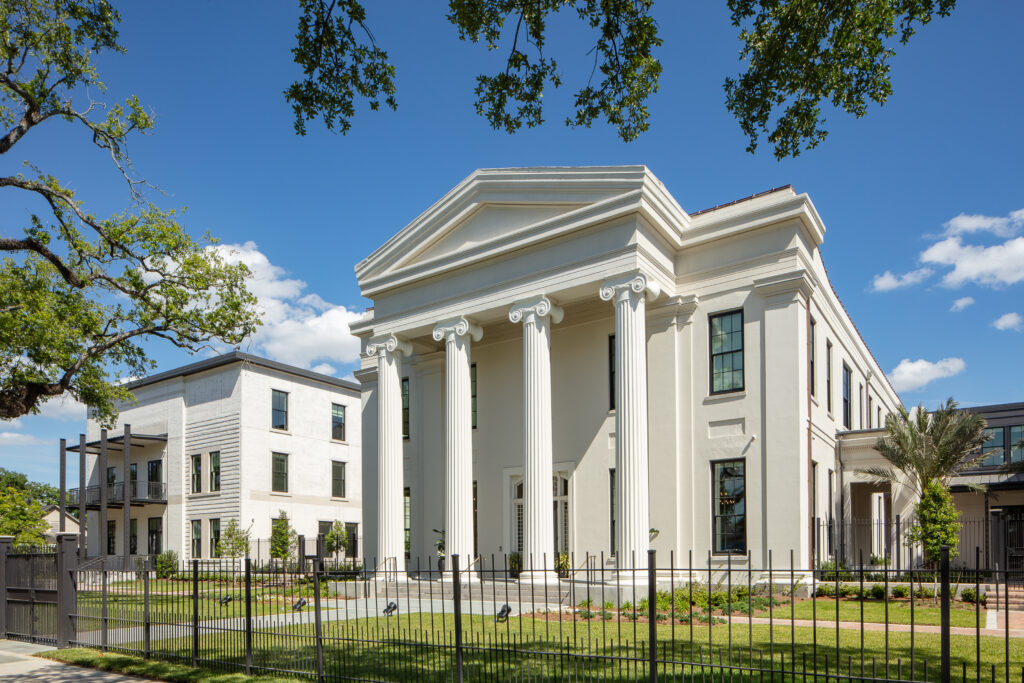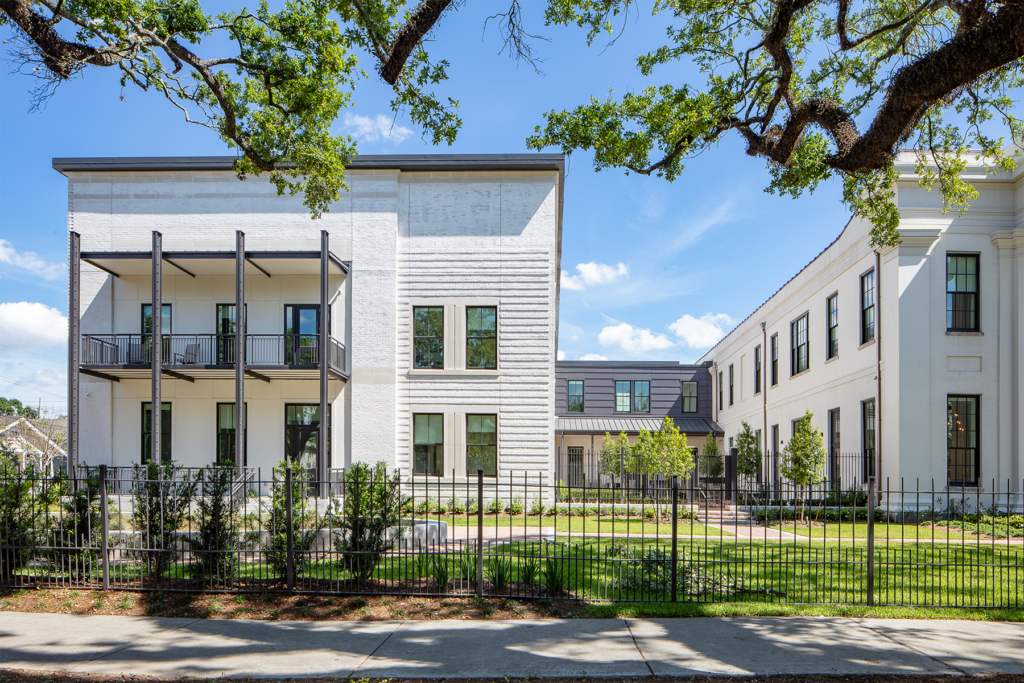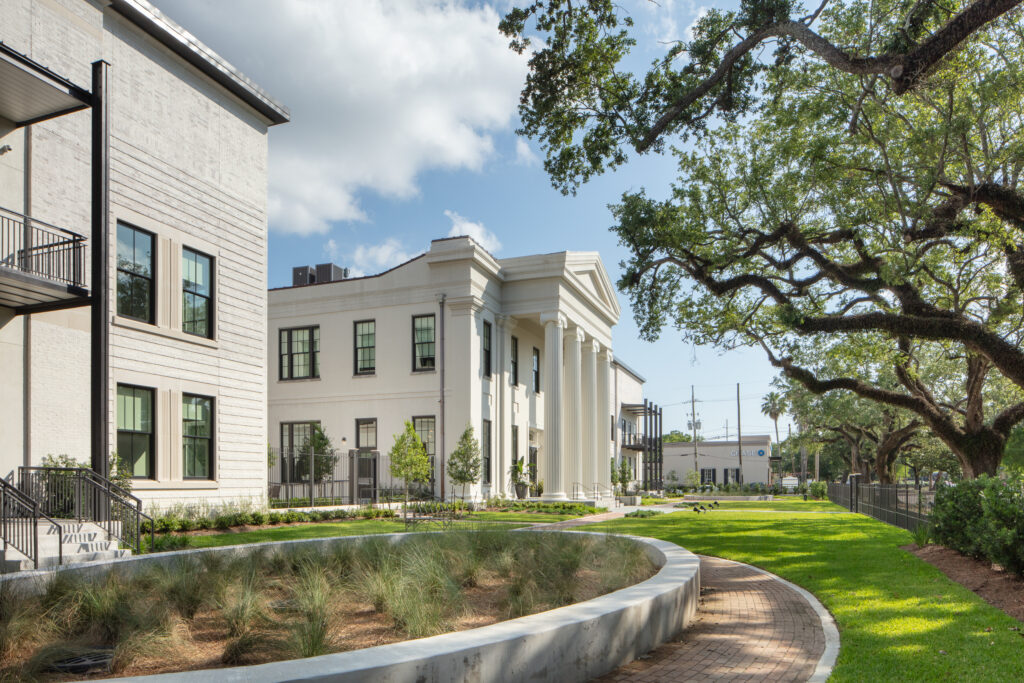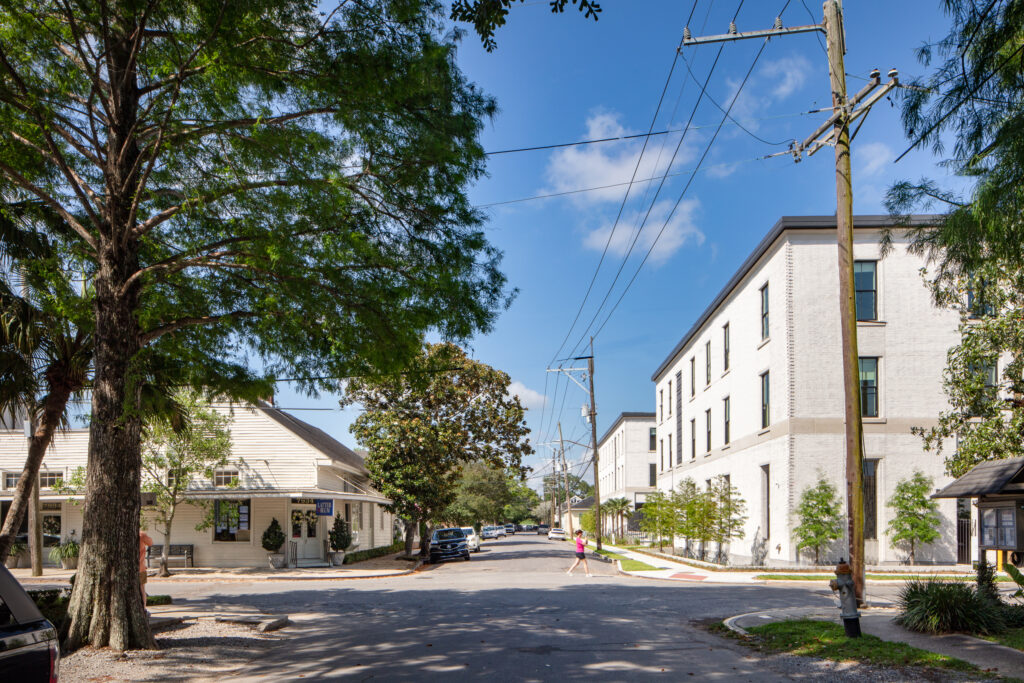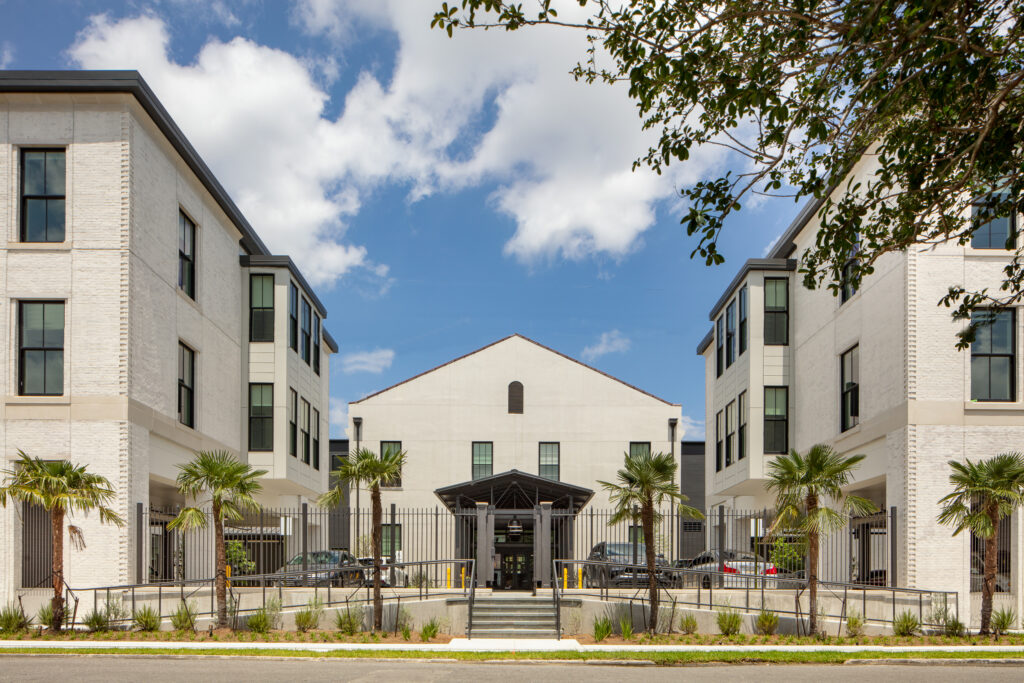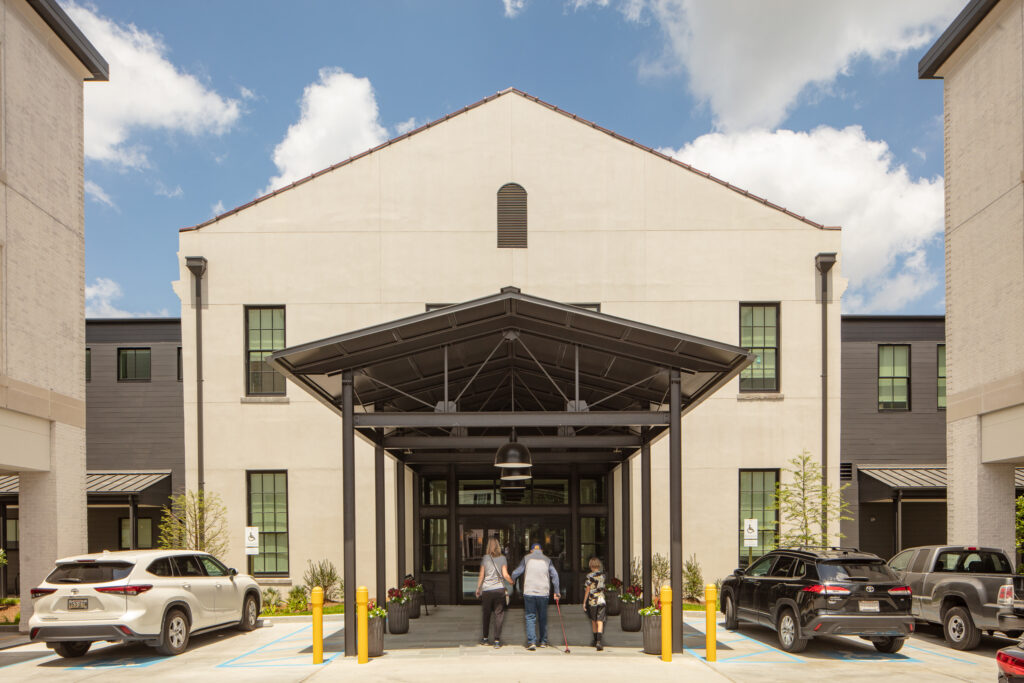 An 1855 courthouse in a historic New Orleans neighborhood sees new life as a senior living home.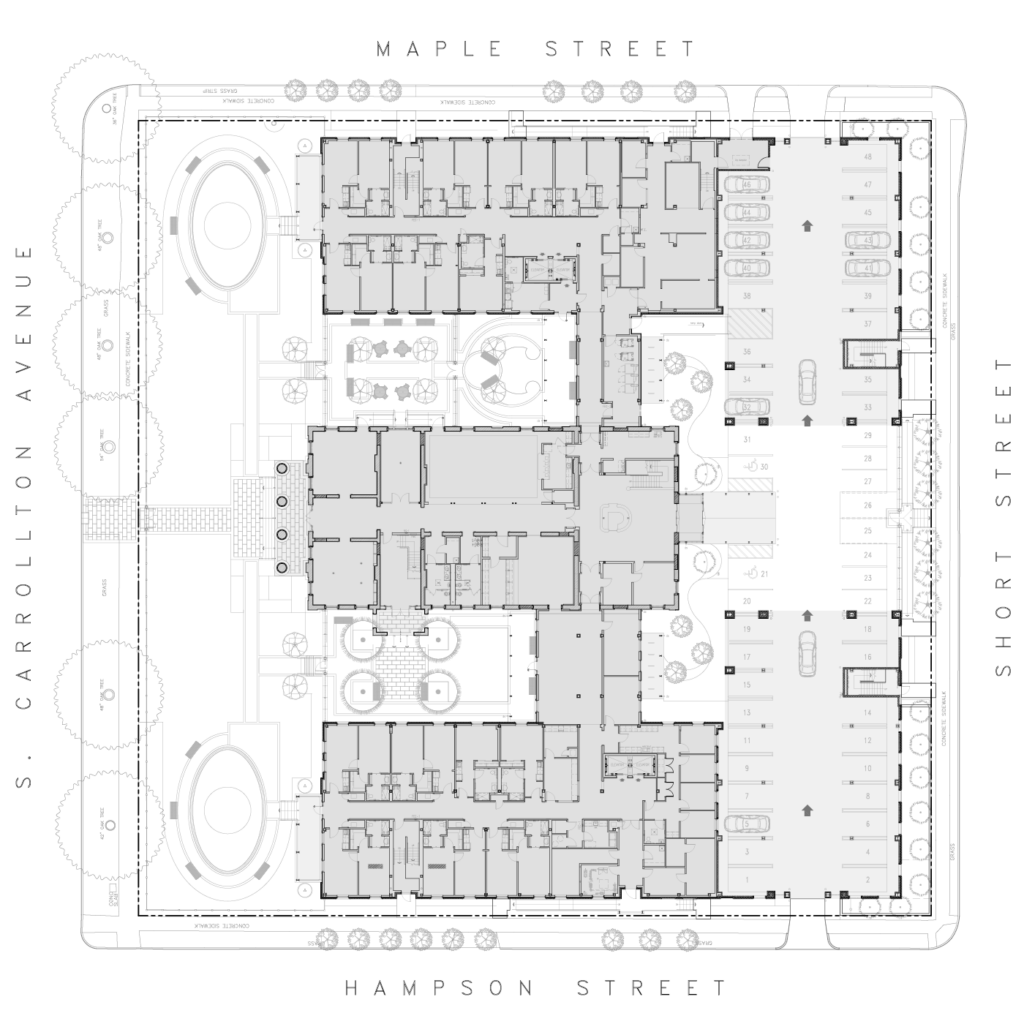 Designed by famed New Orleans architect Henry Howard, the 1855 Carrollton Courthouse has seen many chapters before falling into disrepair. Waggonner & Ball was hired to restore and renovate the historic building and to design an addition to serve as a memory care and senior living facility. New architecture is designed to complement the old without feigning neoclassical, leaving the courthouse as the prominent figure of the site.
With the full city block as the project site, the symmetrical placement of the courthouse offered space for two flanking wings which together house most of the facility's 93 residential units and leave the historic building as a shared commons. Two courtyards between the wings provide shaded outdoor social spaces, and a new entry at the rear offers easy visitor access while concealing the site's required parking.
The courthouse contains the social spaces for the residents, including a gracious entry lobby, sitting and entertainment areas, a formal dining room, a cocktail bar, gallery spaces and public toilet rooms. The new wings accommodate the assisted living and memory care units, administrative offices, a kitchen, and various support functions. Together, the facility comprises a refined and elegant home for seniors and a thorough restoration of a key piece of civic architecture.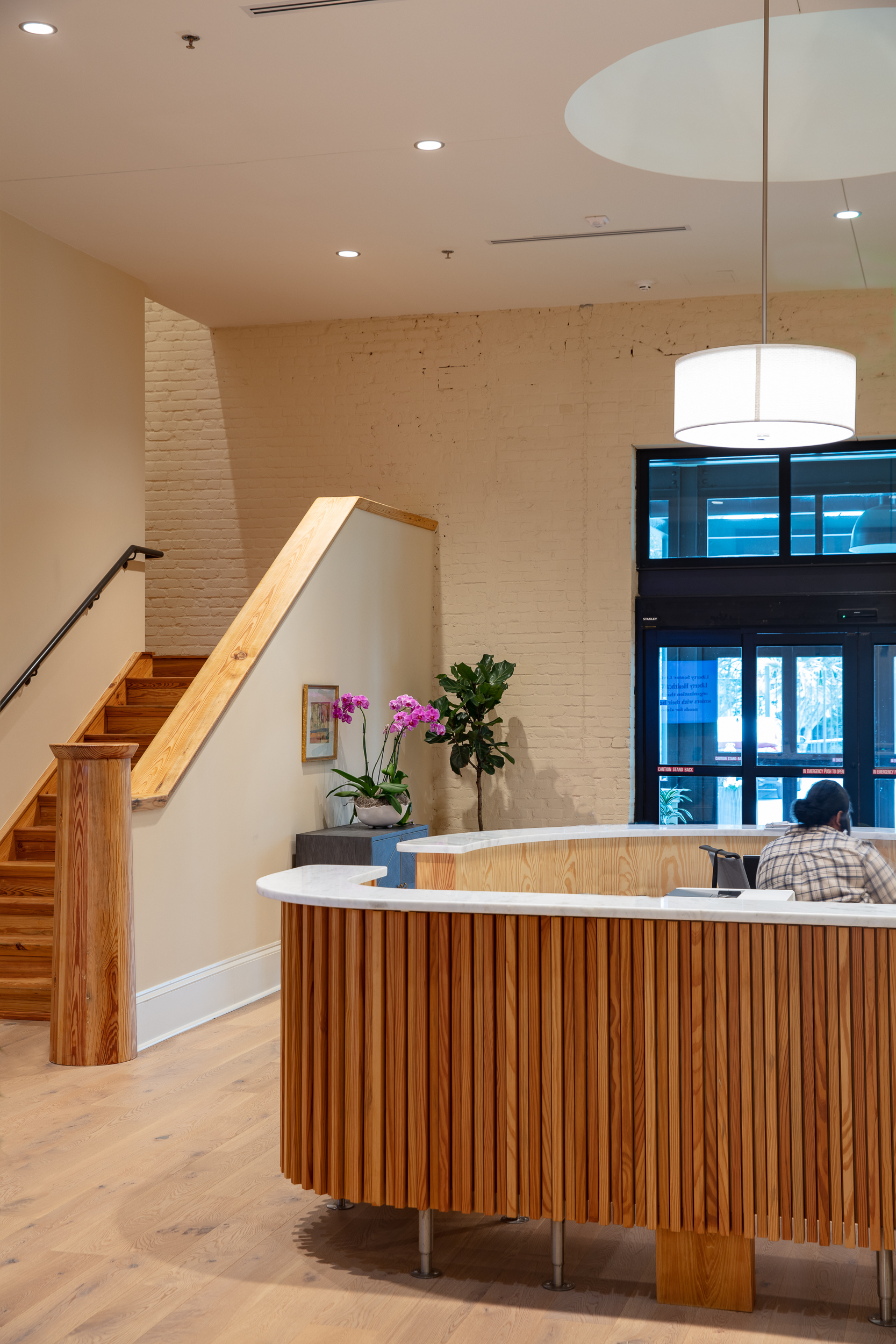 With most of the 93 residences in the two new wings, the grand spaces of the historic structure function largely as a shared commons. As a memory care facility, connection to trees, the street, and to others offers the aging comfortable places to socialize. Rooms are open and light, taking advantage of the courthouse's tall windows and soft bricks to shape rooms that are both cozy and airy.
Beyond the courthouse, the shared spaces of these new wings are designed to connect residents to amenities and to orient them within the site. Common spaces overlook the rear arrival court and the surrounding neighborhood. Where the new wings connect to the courthouse, a clear cross-axis takes residents across all three wings of the building. Changes in material and color let residents know when they've entered the old courthouse.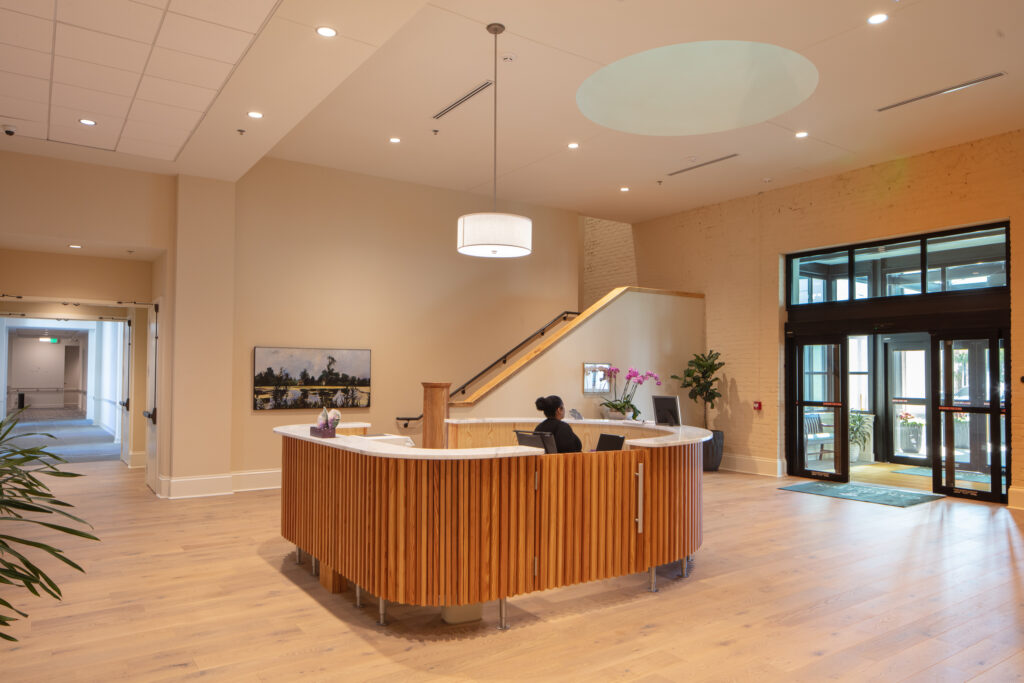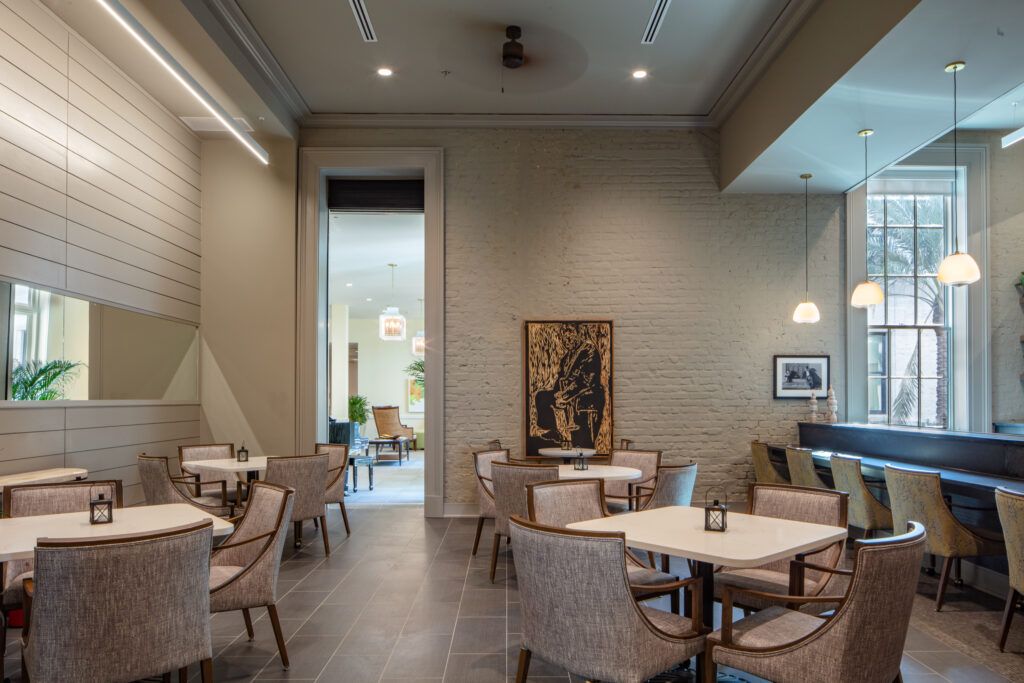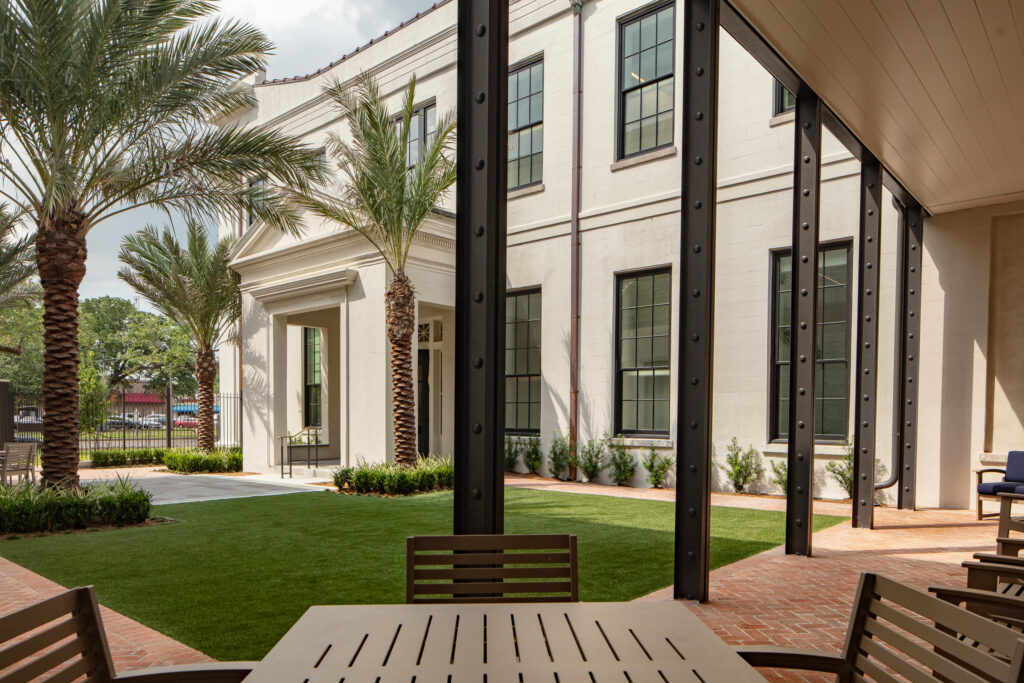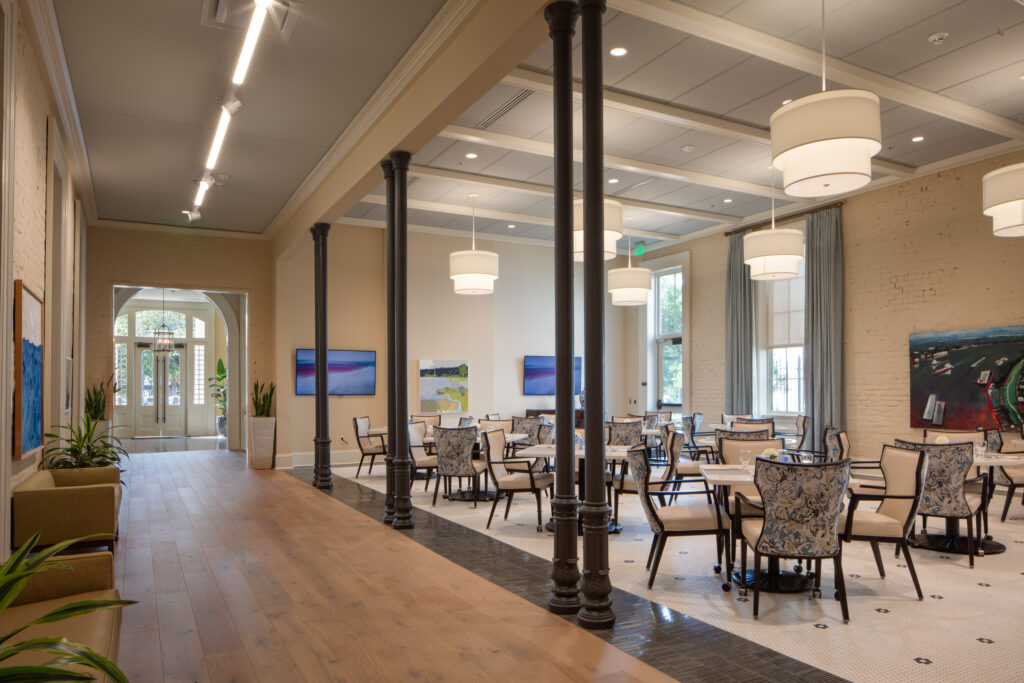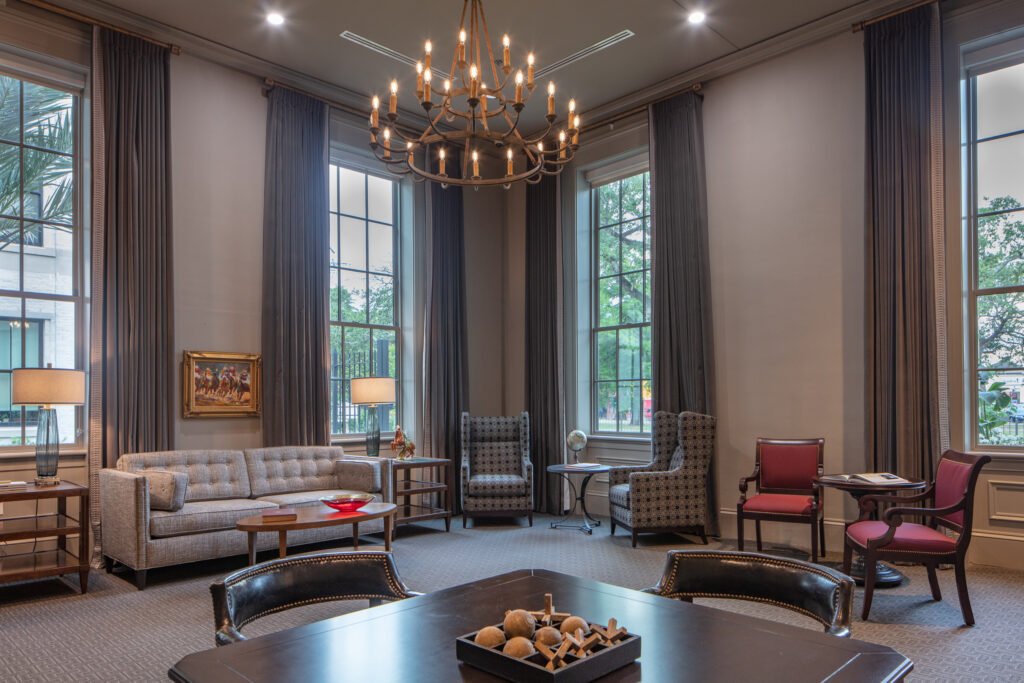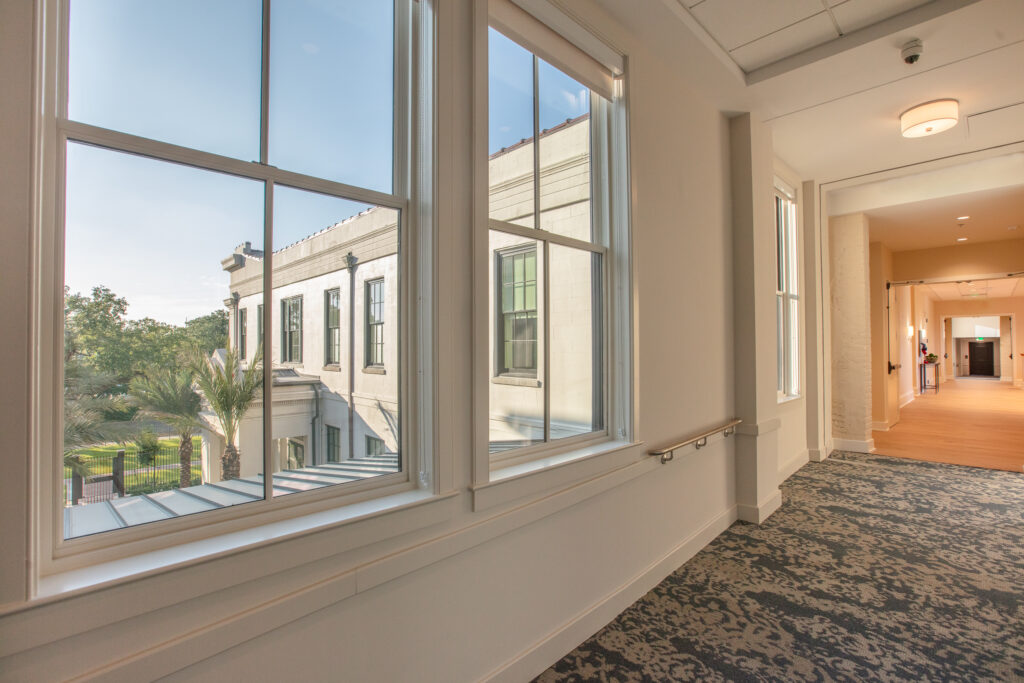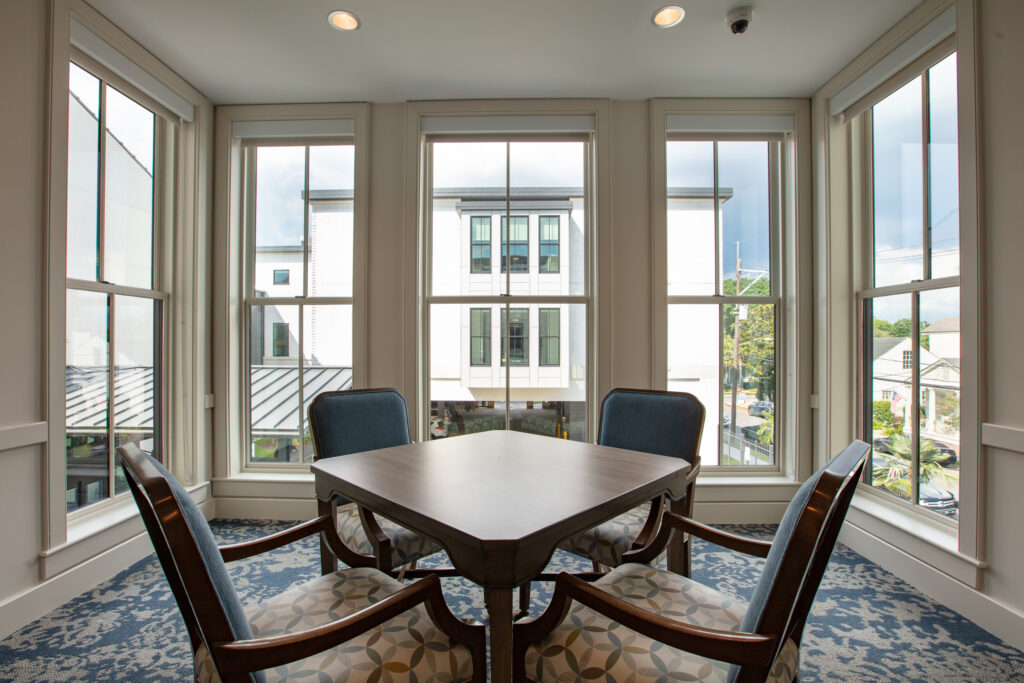 An important civic building for 150 years, the Carrollton Courthouse narrowly survived the threat of demolition to be reborn as a dignified senior living home. Its face on the avenue has been restored and refinished, and its position has been framed by the construction of its two flanking wings. As a home for the elderly, The Carrollton knows where it is and looks towards the future, a landmark in its neighborhood for decades to come.
---
Client
Felicity Property Co.
Photography
Neil Alexander
---